Chief Academic Officer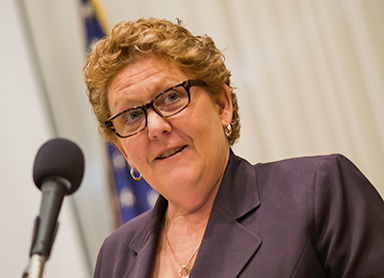 Kelly Eaton, Ph.D., is The Washington Center's Chief Academic Officer. She oversees the Academic Internship Program which includes curriculum, program performance and assessment. She also oversees Student Services (including housing, career services and disability services), Office of Federal Relations and the Academic Seminars department. Kelly is also TWC's lead representative to the academic community.
Kelly was a political science professor for twenty-five years before joining TWC. Most recently she was Assistant Provost for Experiential Education and chair of the political science department at Nebraska Wesleyan University. She has also taught at the Hopkins-Nanjing Center in China, the National Political University (Cheng Chi University) in Taipei, Taiwan, the University of Nebraska, Lincoln and Loyola Marymount University. As a professor she taught courses on China, Europe, international security, international law, comparative politics and political thought. As a university administrator, Kelly has worked in all areas of experiential learning including international education, internships, service learning and undergraduate research as well as overseeing the creation of new programs for non-traditional students. As a professor and administrator, she helped numerous students prepare to win national prestige scholarships including Fulbright, Truman, Boren, Goldwater and Rhodes.
Kelly was a Fulbright grantee to Taiwan in 2002 and was awarded the CASE/Carnegie Professor of the Year for her state in 2003. In 2004 she was recognized for "Outstanding Teaching in Political Science" by The American Political Science Association and Pi Sigma Alpha. Her Ph.D. in Political Science and M.A. in International Affairs are from The George Washington University.