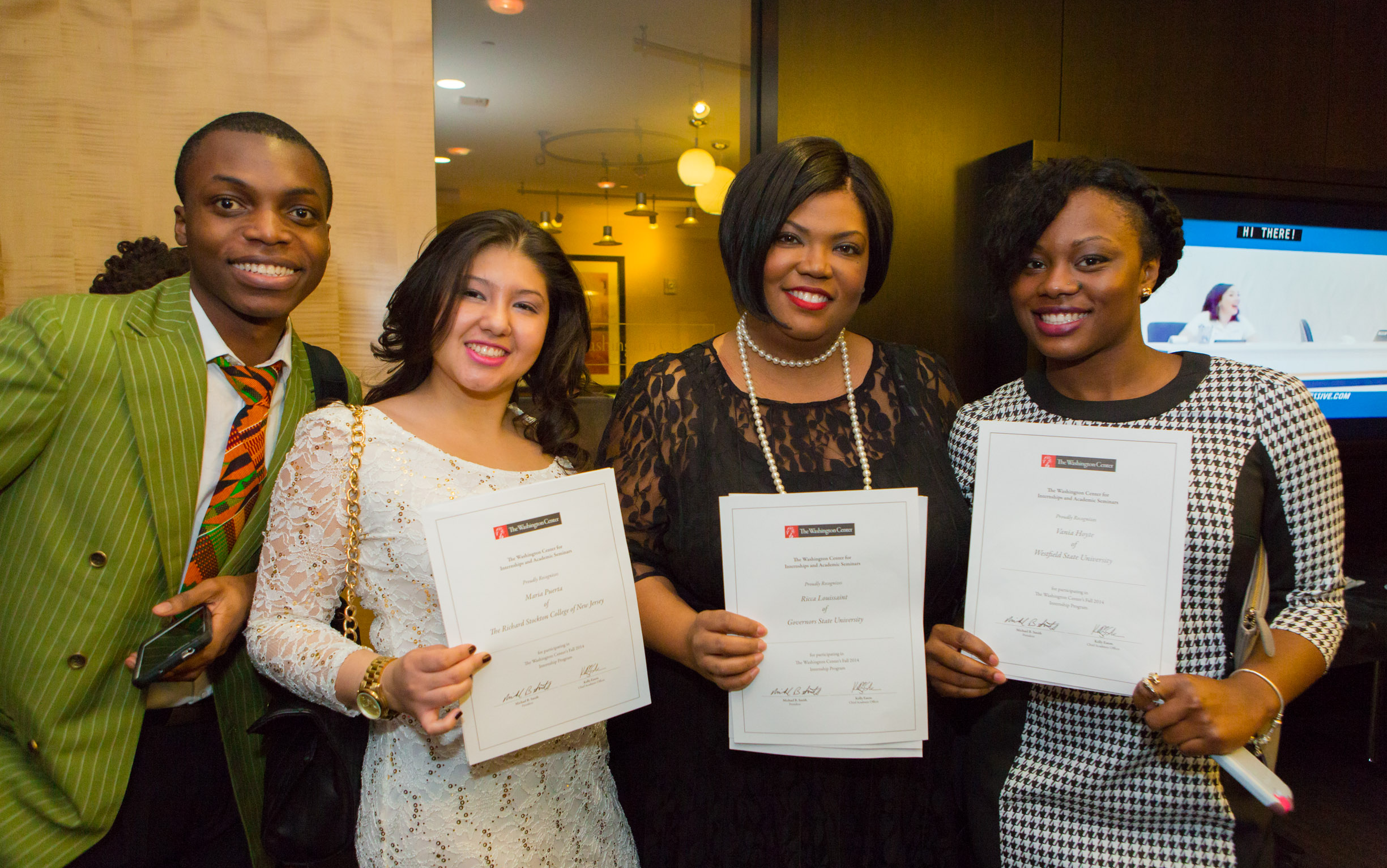 More than 400 students from dozens of countries completed their whirlwind semester in Washington on Monday, Dec. 8, during the fall 2014 Commencement ceremony
The traditional format of the event began with a bit of a twist. Ricca Louissant (Institution: Governors State University, Illinois; Internship: Guide Consulting Services) recited an original poem reflecting on the past three months, eliciting laughter and cheers from the crowd.
Karen Price-Ward '92, Southwest Airlines' corporate community affairs manager and a member of TWC's Alumni Advisory Board, later provided inspiring remarks and a recipe for discovering the "remarkable you."
"Do these three things every day," she said. "Do something for yourself, do something for someone else and get something done. And make sure that you don't fall asleep on life."
Demonstrating her last point, Price-Ward asked for two volunteers to come to the podium and share an impactful experience from their semester. It took several seconds for two brave students – Emily Dasey and Leah Schwarting – to come up and speak. Their surprise reward? A voucher for a round trip flight from Southwest.
"When you take advantage of opportunities, life has a way of paying it forward," Price-Ward said.
Managing Director Kevin Nunley recognized several students for their achievements this semester with awards, including:
Academic Excellence – Lais Lacerda (Institution: Federal University of Bahia, Brazil; Internship: Seraphim Global)
Civic Engagement – Renee Rhodes (Institution: Lubbock Christian University, Texas; Internship: National Archives)
Emerging Leadership – Lauren Rubenstein (Institution: High Point University, North Carolina; Internship: Metropolitan Police Department)
Global Citizenship – Yong Seok Cha (Institution: Sogang University, South Korea; Internship: Supply Chain Management Systems)
Innovation – Melissa Moreno (Institution: Florida International University; Internship: Urban Institute)
Professional Growth – Kristen Richie (Institution: University of South Florida; Internship: Attorney General for the District of Columbia)
MacKenzie Mahoney (Institution: University of Massachusetts at Lowell; Internship: National Defense University) served as the class' student speaker. She thanked fellow interns for making her experience worth the while – but stressed that the journey isn't over.
"We cannot let our progress stop here. All that is left is to see where we go," Mahoney said. "We may head in different directions, but I'm glad that our paths crossed here."
A student-produced short film brought the ceremony to a close. Brooke Bierhaus (Institution: University of Iowa; Internship: Smithsonian National Zoo) and Blaze Horn (Institution: Cardiff University, Wales; Internship: Earth Share) produced the video that thanked the TWC staff at the Residential and Academic Facility for making the building their home away from home.