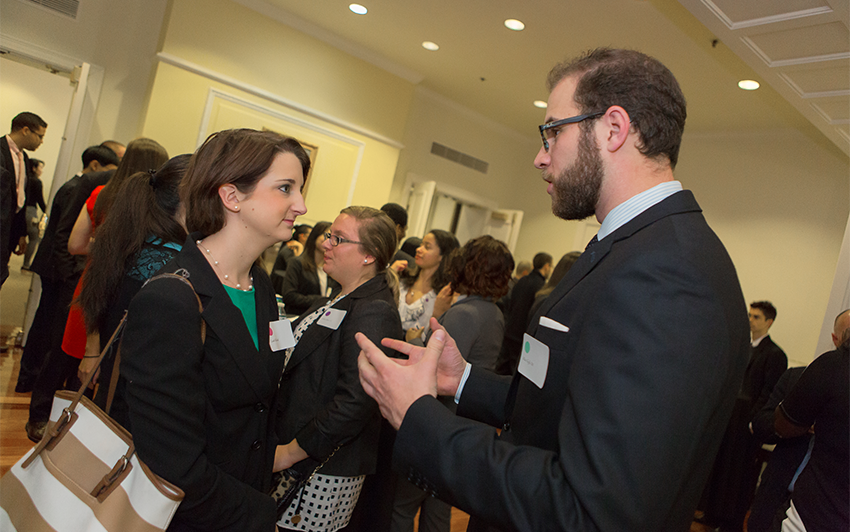 Networking is tough. Walking the fine line between friendly socializing and making critical career connections is no easy task.
The Washington Center welcomed more than 80 alumni and students to its headquarters on Thursday, Nov.6 for the fall edition of ConnectTWC. The student-alumni workshop, held once during each TWC term, featured TWC Managing Director Kevin Nunley and co-facilitator Stacy Campesi, a professional coach and founder of SLC Coaching LLC. Campesi's specialty – helping young adults find the right career to bring them personal and professional fulfillment – perfectly suited the crowd of TWC alumni and students, who were matched with one another based on areas of interest.
Campesi emphasized the importance of establishing good relationships in the professional world and teaming up with the right allies.
"It's all about your approach. Get in the habit of finding people with common interests and then introducing them to others. At the end of the day, you are your own biggest advocate," Campesi said.
Establishing these relationships is more than just being friendly and reaching out, she continued. Common sense and etiquette also come into play.
"Don't ever say anything inside of the workplace that you wouldn't send in a companywide email blast. Helping others be successful eventually comes full circle."
Nunley and Campesi took turns role-playing three networking tips, demonstrating the difference between the right approach and the wrong approach when networking. Following the demonstration, students put these tips into practice with one another and their alumni counterparts.
TWC staff selected two networkers of the night to receive special awards at the event's conclusion. Montserrat Lara represented the students, and Celeste Patel '99 represented the alumni. Each received a $50 Amazon gift card.