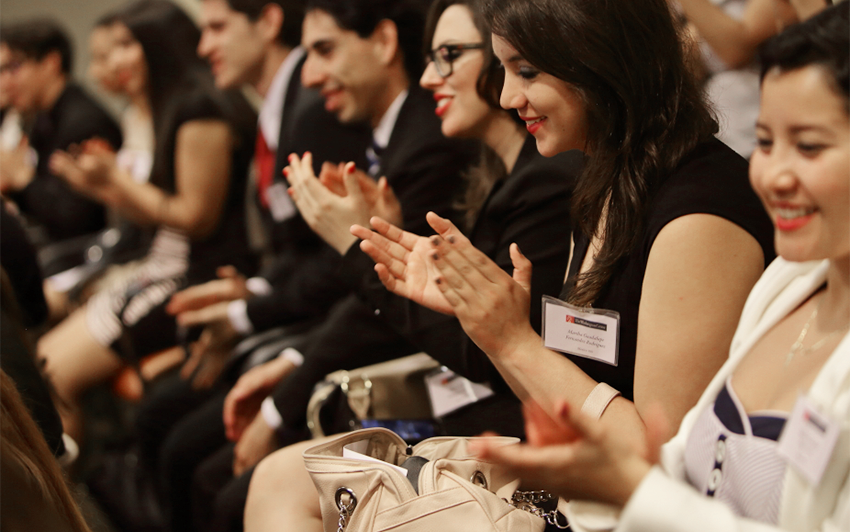 TWC celebrated commencement for its Mexico 100 cohort, honoring the achievements of 123 interns.
The event capped a 15-week professional experience in Washington, D.C., where the students embraced opportunities to intern, participate in specialized, tailored programming and engage in transformative, cross-cultural experiences.
TWC's Mexico 100 program was established in 2014 through a partnership with the Advanced Leadership Foundation and Mexican Institute of Youth (IMJUVE). The program advances the efforts of the United States-Mexico Bilateral Forum on Higher Education, Innovation and Research, which works to expand economic opportunities for citizens in the United States and Mexico. Over two semesters, the Mexico 100 initiative has succeeded in supporting that goal by educating 222 students from more than 90 public universities in Mexico.
TWC President Mike Smith opened the Commencement ceremony, explaining to the audience that – while Mexico 100 enhanced their skills – the students arrived in Washington with their greatest weapon in making positive change already in their arsenal: themselves.
"We do not need magic to change the world; we already carry the power we need inside ourselves," Smith said. "We have the power to imagine and to work toward the goal of creating a better world."
Speakers throughout the ceremony touched on the topics professional growth, achievement and flexibility in adapting to new cities and cultures. They included:
Octavio Amador Molina, a student at Universidad Politécnica de Durango and intern at Emerald Planet, presented the program's pledge. Ana Paulina Ornelas Cruz, a student at Universidad de Guadalajara and an intern at Consortium of Universities of the Washington Metropolitan Area and Luis Angel Plata Cavazos, a student at Universidad Autónoma de Nuevo León and intern at Lake Research Partners, delivered the student remarks.