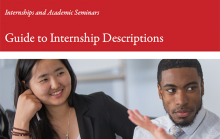 Writing your internship description is a crucial step in the recruitment process, it'll help guide the students who may be interested in being an intern at your organization. This document will help you craft the perfect internship description.
Federal Agencies
US State Governments
Intern Host
Liaison
College/Universities
Download
---
Your internship description will be used to identify a student who is the right fit for your role. Write an internship description you would be excited to interview for! Our examples included in the PDF reference the qualities and characteristics of candidates that would be a good fit, list responsibilities and describe the work environment and culture. We encourage you to review this document and work with your TWC liaisons to fine-tune the description so that you can find the best intern possible.