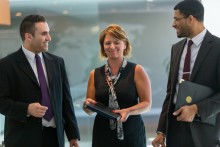 Here is a list of organizations that serve as internship sites in the Washington, D.C. metropolitan area.
International Governments
Student
Intern Host
Liaison
College/Universities
Partner
Download
---
Hundreds of nonprofit, international, private sector, and government agencies host Washington Center interns each year. This list is not exhaustive and includes only a subset of organizations at which students have interned in the recent past. Some organizations have citizenship requirements and availability will vary by semester. You'll have an advisor to guide you throughout the internship matching process and help you secure a position that fits your interests, skills and background.
Below is a small selection of our internship sites:
Kennedy Center for the Performing Arts
United Way Worldwide
U.S. Capitol Historical Society
U.S. Department of Education
1776
Izar Capital Group
Brady Campaign to Prevent Gun Violence
S&P Global
Arthritis Foundation
Securing Water for Food
Institute of World Politics
International Rescue Committee
Politifact
Voice of America
Public Defender Service for D.C
U.S. Department of Homeland Security