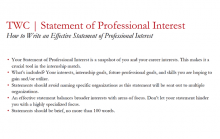 Your Statement of Professional Interest is a snapshot of you and your career interests and is an important component of finding your internship in Washington, D.C. with The Washington Center. If you want to know more about how the application documents are used in your matching process, we recommend reading "What are My Application Documents For?"
Student
College/Universities
Download
---
Your internship experience at The Washington Center begins with the internship matching process which helps to prepare you for finding a job as a professional. As part of that process you'll be asked to submit a Statement of Professional interest which highlights your interests, internship goals, future professional goals, and skills you are hoping to gain while being an intern in Washington, D.C.