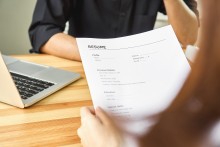 Writing an effective resume is key to helping you find your perfect internship in D.C.. With this guide we'll provide you with some tips and tricks on how to make your resume standout from the pack. If you need some inspiration, check out our Resume Samples.
Download
---
Resume Sections
Contact Information (name, address, email, phone number)
Education
Academic Honors / Awards
Work Experience, Professional Experience
Leadership Experience, Community Leadership (volunteerism), Campus Leadership (clubs and organizations)
Skills (computer skills, language ability)
Contact Information
This is your resume's header
Make sure your full name is the largest item on the page
Use a professional email address (FirstName.LastName@gmail.com) • Include your phone number with area code
Education
Put your home institution first. If you've already graduated, put your highest level of education first. • Put the month and year you will be graduating or graduated (i.e. Anticipated May 2016)
Use your school's official name.
Academic Honors/Awards
List awards & honors in the Education section if they are all school-related
Mention how long you have held the honor: for example, "Dean's List (four semesters)." • Highlight scholarships – please do not include monetary value of the award
Work Experience (or Professional Experience)
List your experience in reverse chronological order (most recent first) • List 3-5 bullets per position
Use present tense for current duties and past tense for past duties
Leadership Experience (or Community Leadership, Campus Leadership)
Format and write about extra-curricular activities the same way you would your work experience
Do not include high school activities
Skills
Include any computer software or programs relevant to a potential internship
Describe language proficiency with words like "Basic," "Proficient," "Conversational," "Fluent" or "Native"
Formatting Best Practices
Keep your resume to one page
Make good use of your white space by keeping your margins between 0.5 and 1 inch
Use a 10-12 pt. conservative font for the body of your resume
No photos, please!
Make sure you are consistent in your formatting (for example, use the same font throughout) • Be consistent in how you format locations and time periods