The Washington Center's Residential and Academic Facility is more than a housing facility – it's a community, a learning environment and a place to call home while you're in D.C.
As a student with The Washington Center, we guarantee you centrally located housing in Washington, D.C. You'll feel right at home in either our Residential and Academic Facility or one of our partner buildings nearby. 
The Residential & Academic Facility (RAF)
You'll likely live in a two-bedroom, two bathroom apartment with three other interns. You'll share a bedroom and a bathroom with one other student, along with your kitchen, living and dining area with your two other roommates. Apartments are fully furnished with a bed and dresser for each student, living room and dining room furnishings, washer/dryer and dishwasher in-unit, and even pots, pans, and cutlery already stocked in the kitchen cabinets. You'll also find a vacuum cleaner, mop, iron, ironing board, and other daily essentials you might struggle to fit in your suitcase. If there's something extra you may need, you'll be within walking distances of several grocery stores and a Walmart.
Within the building, there is a full gym with cardio and weight-lifting equipment, a business center with computers and lounges available for studying, relaxing, or catching up with your fellow interns.
The RAF is more than just a place to eat and sleep, it's also TWC's primary academic building. If you live in the RAF, your evening course and career readiness programming is a quick elevator ride away. As far as we're aware, it's the shortest commute in Washington, D.C.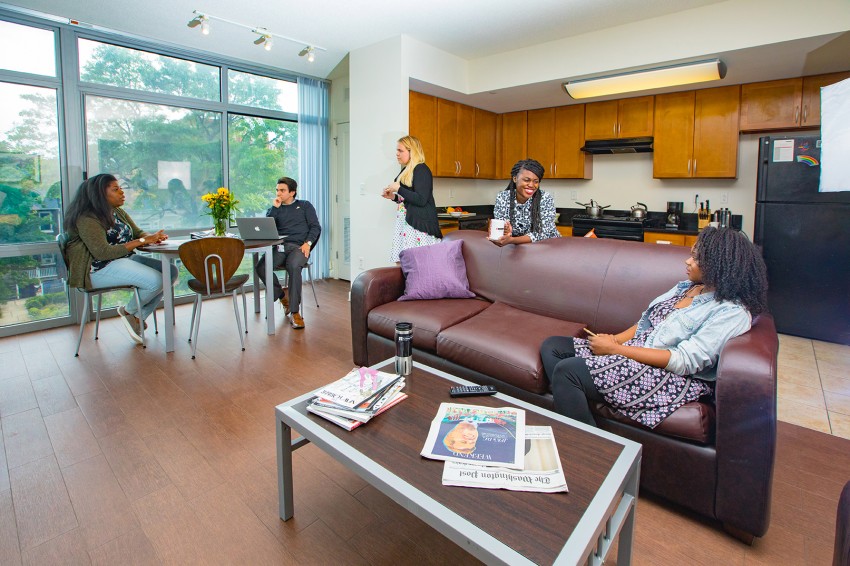 Housing Services
Our housing is managed by a dedicated housing services team to ensure you have everything you need to live comfortably. Our staff organizes events to connect you with your peers in the building and are also available to assist with any maintenance issues, roommate disagreements and everything in-between. 
We want every student to be able to maximize their experience with The Washington Center, so we offer reasonable accommodations to students with documented disabilities. The RAF is ADA accessible, and wheelchair accessible apartments are available to students that need them. We also allow documented service animals and emotional support animals.
In addition to our professional staff, you'll also be connected with one of our alumni mentors. These are alumni of The Washington Center who are now living and working in Washington, D.C. They live alongside you in the RAF and are a resource for all your questions about living and working in the nation's capital.
Welcome to NoMa
Beyond the National Mall, D.C. is a city of diverse and exciting neighborhoods. You'll be living in NoMa (North of Massachusetts Avenue), a cosmopolitan neighborhood full of unique restaurants and nightlife.
When you first arrive in NoMa (via the NoMa/Gallaudet University Metro stop on the red line) you'll find the RAF just a quick 10-minute walk away. Further south you'll find the H Street Corridor, a staple destination for D.C. foodies. You'll find everything from authentic Ethiopian food, to ramen, to inventive vegetarian cuisine and more.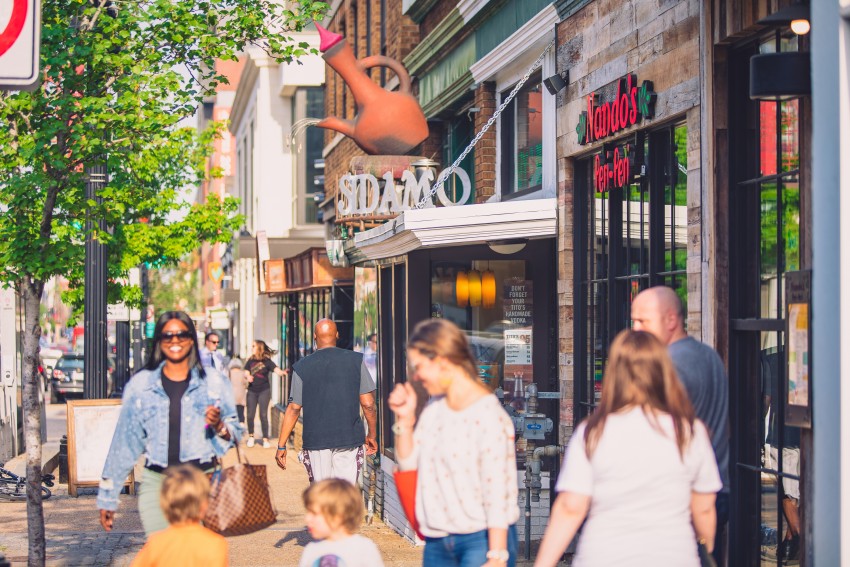 If you continue south, you'll find some of the more familiar sights of Washington, D.C. Embrace your inner tourist by wandering the eastern end of the National Mall where you'll find the Supreme Court, the Capitol and a view stretching the length of the Mall, including the Washington Monument and Lincoln Memorial. If you head north, you can explore one of the best food halls in the country, Union Market, or spend some time walking around the National Arboretum and exploring their various garden collections.
We're confident NoMa will serve as an exciting backdrop to one of the best experiences of your life.
Packing for D.C. 
| What to Bring | What Not to Bring | What to Purchase After You Arrive |
| --- | --- | --- |
| Twin XL sheet set | Iron/Ironing board | Cleaning supplies |
| Blanket or comforter | Mop and broom | Dishwasher detergent  |
| Pillows | Dishes | Laundry detergent |
| Towels | Cutlery | Groceries |
| Toiletries (plus hair dryer) | Pots and pans | Toilet paper |
| 2-3 professional outfits | Microwave | Paper towels |
| Walking shoes | Toaster | Napkins |
| Clothes hangers | Coffee maker |   |
| Notebook/pens/supplies | Television |   |
| Laptop | Furniture |   |
| Umbrella |   |   |
| Rain boots |   |   |
| Plenty of face masks |   |   |
Housing Deposit
To reserve your spot in TWC's housing, you'll need to submit a Community Profile and pay a $75 deposit, due at time of submission. This amount will be refunded to you, less any damages, within 45 days of the completion of your TWC program.
If you have financial need that prevents you from paying the housing security deposit, you can request a housing deposit waiver.
FAQs
Can I check-in early?
Early check-in is not an option. TWC partners with the Homewood Suites NoMa Union Station and Hampton Inn NoMa Union Station to give you and your family great rates to enjoy Washington D.C. prior to check-in. This is an excellent option if you're planning on coming to Washington, D.C. earlier than your check-in date and time. Both hotels are located less than a mile away from the Residential and Academic Facility at NoMa.
What is the address for TWC's Residential and Academic Facility?
The address is 1005 3rd Street NE, Washington, D.C. 20002.
Do you provide co-ed apartments or family housing options?
We can provide co-ed apartments upon request, through a "Roommate Request" in the Community Profile. Please note that roommate requests must be mutual to be honored. While we try to accommodate preferences, not all requests can be honored. We are currently unable to provide family housing options.
I am interested in bringing my vehicle - where should I park?
Finding a parking space on D.C. city streets can be challenging, and most places are easily accessible via public transportation. For these reasons, we don't recommend bringing your personal vehicle; however, if it's something you're considering, The Residential and Academic Facility at NoMa has limited parking spaces available. A parking space will cost $675 for the Spring/Fall semesters, $425 for the Summer Term, $50 for a one week Seminar, and $100 for a two week Seminar. Your vehicle will be assigned a private numbered space in our secure parking garage. The parking garage is underneath the building and is in close proximity to the elevator which will take you right to your apartment. Parking assignments are made on a first-come, first-serve basis, depending on space and occupancy availability. To be assigned a parking space, you must submit a fully completed Community Profile, including vehicle information. The parking fee is due in full by the day of check-in. If you have questions regarding parking availability at the RAF at NoMa, please email housing@twc.edu or call 202-469-8091.
If you are selected to live at another residential facility, you will have to visit the building management office to purchase parking, depending on availability.
If I have a disability, how do I receive accommodations?
All persons with disabilities (physical or cognitive disability) should note accommodations and documentation within the Community Profile. If you have further questions, please contact our Disability Services team at disabilityservices@twc.edu or 202-469-8089.
How do I find out information about my roommate?
Roommate information will be released approximately two weeks before your designated day of check-in.
Can I request a specific roommate?
Yes. The Community Profile offers a "Roommate Search" section. Roommate requests must be mutual to be honored. Please submit your Community Profile by the priority deadline, to ensure we can fulfill your request.
In which residential building will I live?
All students should expect to be placed at the Residential and Academic Facility (RAF) at NoMa. Should the RAF be filled to capacity, we guarantee placement in equivalent apartments in a similar location, provided that you complete your Community Profile along with your housing security deposit by the final deadline. We do not consider requests for specific building assignments outside of the RAF.
What does my housing fee cover?
Your housing fee provides fully furnished apartments – including housewares (pots, pans, coffee maker, eating utensils, plates, drinking glasses, etc.) – a washer/dryer in each unit, iron and ironing board and other amenities such as a fitness center, computer lab and 24/7 concierge service. All utilities are covered including internet.