Boost Your State's Competitiveness by Making an Investment in Your Future Workforce.
When states partner with us to bring students to D.C., the benefits of their experience go back home with them. Students come home from D.C. more informed, more civic minded and more capable citizens. Their experience also sparks fresh ideas, creative thinking, and a passion for the people and places they call home. They start and build businesses, get involved in state and local issues and lead their communities. Many of our alumni pursue elected office or serve on staff in state governments.
We help your state by helping your students
State Initiatives provide scholarships so students can experience TWC for about the same cost as a semester at their college or university. Many of these students are from economically disadvantaged backgrounds who otherwise could not attend. We partner with legislators, governor's offices, state agencies and universities to make sure each initiative meets the distinct objectives and needs of partner states.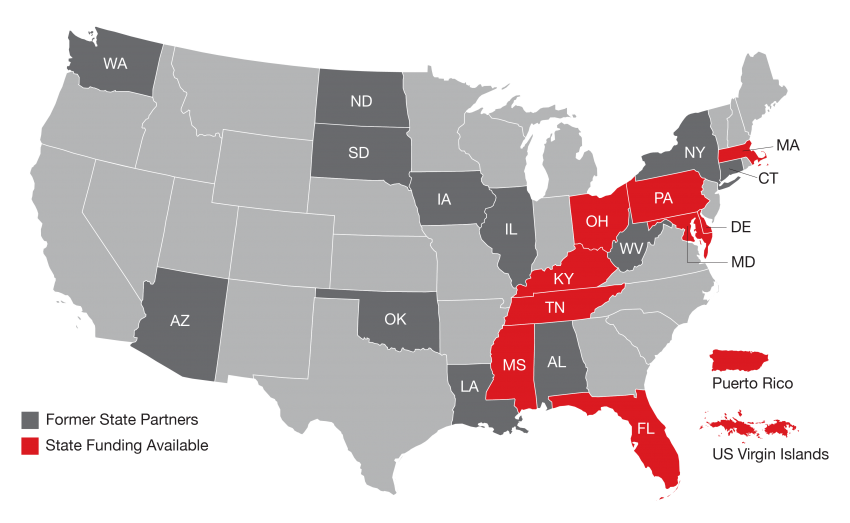 Does your state or territory offer scholarships?
Currently 10 states, Puerto Rico and the U.S. Virgin Islands partner with us to provide millions of dollars in scholarships that translate into significant economic, political and social returns. By growing the number of states, and the amount each state provides, more communities can enjoy the benefits TWC alumni bring with them when they return home.
How it works
First, and most importantly, 100% of all state-provided funding goes directly to students as academic scholarships. Most scholarships range from $6,000 - $7,000, about 50% of the cost of TWC tuition and housing fees. Almost all public universities waive tuition or forward students' tuition (less administrative fees) to TWC. This significantly reduces the financial barrier for students.
Partnering states have the freedom to set their own parameters, including:
Eligibility requirements regarding public or private institutions.
Offering standard scholarship amounts, or different levels for public and private institutions.
State residency requirements or providing scholarships to all students attending an institution in that state.
Why states partner with us
Workforce training for 21st century professionals
States need talented young people who are equipped for careers in politics, communications, business and a number of other fields with growing job demand.
Reversing the "Brain Drain"
TWC helps provide communities across the nation with well-prepared, educated workers. Students come here to gain invaluable experience and learn about policy or business. They go home with confidence, real-world skills and a sense of purpose, ready to take on new challenges and seize professional opportunities.
A study by Gallup found that recent TWC alumni (42%) are more likely to be engaged at their work than graduates nationally (38%).
Obtaining Jobs
Internships often lead to a student's first professional position back home, spurring local economies and building a generation of skilled workers within their communities.
If your state could benefit from more young people who are focused and prepared to make a positive impact, consider partnering with us.