VP, Student Affairs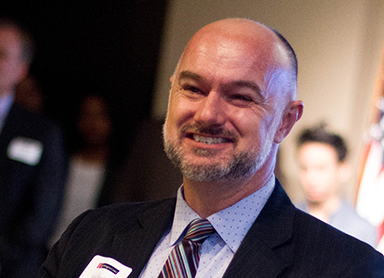 At The Washington Center, Kevin Nunely, M.S., oversees three functional areas of the institution:  Academic Internship Programs, Student Services & Community Life, and the Academic Seminars Department. In this role, he has oversight of the student experience during their time in Washington, DC.
This includes the curriculum that guides their transition from theory to practice, their professional development and growth within their internship sites, their experience in our living and learning environment, and more. Additionally, he plays a lead role in The Washington Center's Emergency Protocols and Response team.
Prior to joining TWC, Kevin worked at several colleges and universities in higher education, student affairs, wellness, and teaching with roles in residential life, counseling, wellness, diversity and inclusion.
In the DC Community, Kevin serves as the Chairperson for the Board of Directors with Metro DC PFLAG, a group facilitator at Whitman Walker Clinic, and a spokesman for Diversity topics with the DC Center.
His academic background includes three Bachelor of Science degrees in Chemistry, Biology, and Pre-Medical Sciences as well as a Masters of Science in Biomedical Research with concentrations in Neurology and Teratology.