VP, Operational Effectiveness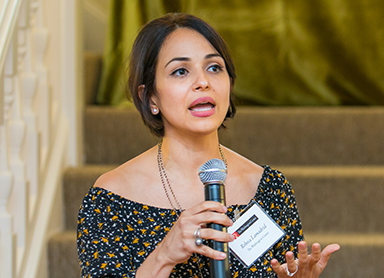 Rebeca Lamadrid, M.A., serves as Vice President, Operational Effectiveness. Rebeca leads a team responsible for the pre-arrival experience of our students, developing relationships with internships site hosts and the matching and placement process. She also oversees a team responsible for the distribution of financial aid and enrollment services.
Prior to this position, Rebeca served as senior director of the communications department leading organization-wide projects including the rebranding strategy and execution, the revamping of TWC's website and the development of various digital projects with key operational outcomes. Prior to joining The Washington Center, Rebeca worked in Mexico as an Account Executive at a national in-store merchandising firm, owned a wood-shop with a dedicated line of products and worked for General Electric on a paperless initiative between plants and industrial systems suppliers in Monterrey, Mexico.
Rebeca has experience across sectors and is passionate about operational execution and improvement. She earned an MA from York University in Toronto and a BS in Industrial Design from Tecnologico de Monterrey in Mexico. Rebeca has lived abroad in Italy and Canada and resides in Washington D.C. with her family.