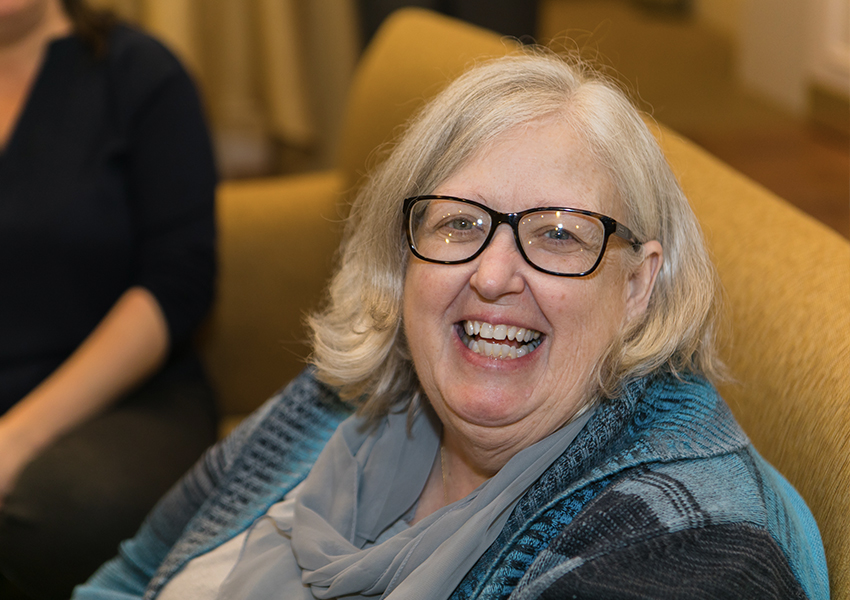 Nancy Cade of the University of Pikeville is a 15-year veteran liaison and a self-proclaimed TWC Academic Seminars addict. She has participated in 23 seminars and looks forward to adding more, beginning with Inside Washington 2019 in January.
We sat down with her to discuss the TWC value to her university, her students and liaisons, such as herself. 
Why did your university decide to partner with The Washington Center? How did that partnership come to be?
The University of Pikeville first sent students to The Washington Center for the Campaign 2000 seminar. But what really kicked off the relationship was the Appalachian College Association (a collection of private Appalachian colleges and universities) received a grant from the Berger Foundation for the Campaign 2004 seminar. The grant funded 15 students and two faculty members, drawn from the entirety of the association. I was chosen as one of the faculty members and the school also had two students selected. The Berger Foundation granted another seminar experience for Inside Washington 2006. We had nine students there and I was again selected from the faculty. It all started with that Berger Foundation grant. It took off from there. 
Can you describe your institution's relationship with TWC?
The university recognizes and appreciates the TWC experience, it isn't just me. Our Director of Development has funds made available. The Dean of the College of Arts and Sciences very much believes in TWC and always puts money into his budget to help send students. We focus primarily on seminars. A lot of schools focus completely on the internships. I think that's unfortunate because some students need the seminar. Every student that I've had with a successful internship has done a seminar first. They did a January seminar and stayed for Spring Academic Internship Program. It created a comfort zone for them, they knew what TWC was, what to expect, where the grocery store or Metro was, and got very comfortable. 
How has the partnership evolved?
In 2007, the Berger grant was not available. The university and I partnered to continue funding seminar scholarships. The university funds one and I fund as many qualified students that apply. It can be very hard to get students here to leave the hills of home. Once convinced, though, they go to D.C. for two weeks, live in the Residential Academic Facility (RAF), experience much of D.C. by going to different events and embassies, and hear from speakers like Mike Pence or John Brennan. We've been lucky at my university, the faculty are very supportive of the experience and will substitute the seminar for a related class. We now have close to 100 alumni, and some students have attended more than one seminar. 
In what way (if any) does TWC serve as an extension of your campus in D.C.?
One of the things I like best is the safety net, which isn't something a lot of people think about, but they should. We had one student come to D.C. that encountered personal issues. Had the student not been at a place like TWC that had resources available, it may have turned out tragically different. I have sent students for internships with full confidence in TWC's Student Life staff. They are second to none. I have no doubts about my students being safe and supported. Bringing students from the hills to D.C., this is for many of them the first time they've ever been in a major city. A lot of my students have never been away from home. Literally, they live at home while going to school. Getting their feet under them in this environment can be flustering. That is one of the things that is so important about TWC is that you do things that get the students out into the city.
Whether they are interning or doing a seminar, TWC gets them out into the city and shows them that they can function in the real world, which is huge.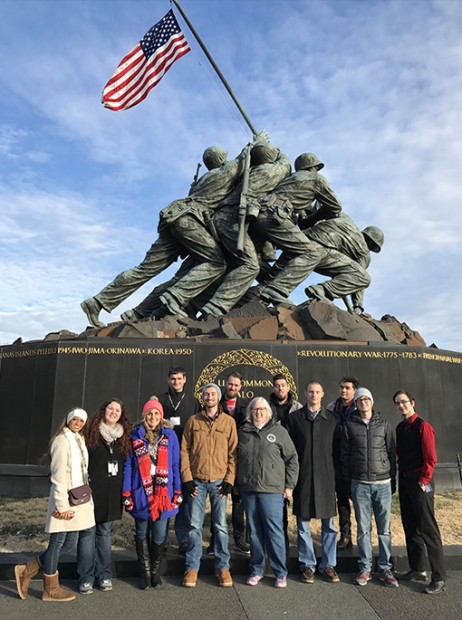 Can you review your involvement with TWC? What do you enjoy most about being a TWC liaison? 
I love teaching college students, and TWC allows me to do something different. I get to experience it with them. I have been to every Inside Washington and Campaign seminar since 2004 and a few National Security seminars. I've done 23 seminars, thus far, and I hope to make it 25. I truly have enjoyed my years with TWC. When the grants that helped send our students went away, I set up a scholarship on my own. The scholarship is named after my dad. It is the Fred W. Meyer Jr. Washington Center Scholars. It has allowed us to keep sending University of Pikeville students and it is all because I went on that first seminar in 2004 and recognized its inherent value. This concept that experiences transform, they really do. I've seen it in action. It's been amazing for me to watch. That's what keeps me coming back.
Is there a specific highlight or experience from your time as a liaison you could share?
I have a couple of memories. I had a student in the 2004-2005 campaign series. I will never forget him from the bus tour. He was in my group, but not from my institution. He sat right in front of me and I watched his excitement as he wiped the window to see everything in D.C. on what was a horrible, cold, icky day. His excitement made me wonder to myself if there was something going on here with this seminar thing. Also, I had a student on a couple of seminars who was kind of famous among the students because he would walk up to anyone in the halls of Congress and introduce himself. Students don't realize that you can just walk around the halls and meet a Congressman or Senator. I can remember sitting there with a faculty member, a guy with graduate degrees in political science, at a seminar while TWC was going over the plans for the day. And this guy looked at me and asked 'you mean to tell me we can walk into any Congressman's office?' He didn't even know that. Students find this to be amazing- their government is so accessible, they can walk into any office and the offices want to talk to them. That is a takeaway that students and faculty don't really understand, I think. That's one of my big takeaways I share, how much students realize they matter in the system. 
Has a specific student(s) returned from TWC with an impactful story?
A few years ago, I brought a group of five football players from Pikeville. We were noticeable because you could pick out these five huge guys walking around. Honestly, they had always considered themselves as dumb jocks. I watched them light up and realize they were really bright. I knew that, but they hadn't yet realized that. I'm still getting comments from them to this day. One of them is now a teacher. He's taken an interest that was piqued in the seminar into the classroom for the next generation. I've watched all of my kids have truly life-changing experiences. I have two students from Pikeville that liked D.C. so much that they moved here. One of them did not know what she wanted to do for a career before coming. She had a vague idea, but it didn't have a name. She did two seminars in 2006 and 2007. And during one of those she discovered economic development is one of her passions. It gave her the name of what it was she wanted to do.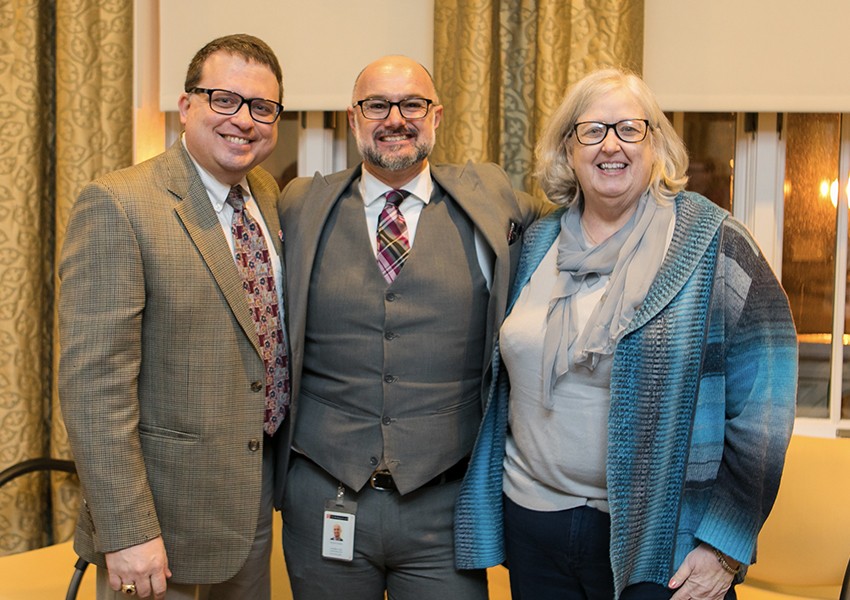 What are the benefits of TWC you mention to students?
I mention very specifically the RAF and facilities. Students are going to talk to their parents and their parents are going to want to know that they are living in a nice place. They watch the video and see TWC students live in a nice building, nice apartments. I go through the security at the RAF, because that is huge, especially for kids that aren't familiar with the city. The other thing I go through with them that some people may not think about is the network they are going to build. At the end of two weeks, they are going back to their home institution, some maybe in Boston or San Diego or Miami. In a few years, the student is going to be looking for a job and may see on somebody's LinkedIn account that a person where they're looking is a TWC alum too. I actually hired someone for a faculty position at our school who was a TWC alum. That jumps out from the resume. Students think about that for the internship, but it is just as true for the seminars. Building that network is one of the things I emphasize. Kids now are really thinking career. Networking is huge. 
What is the single biggest benefit TWC provides to your university?
TWC is the premier study away (from campus) program we have at the University of Pikeville. It has the greatest number of alumni and it's also the only one that students have as an option every year. Predominantly, my students are history and political science majors. But I have sent or brought students from just about every undergraduate major. Everybody should be interested in our government. TWC affords us the opportunity to send students to D.C. for two weeks or a semester and know, without a doubt, they will get an exceptional education experience. We give three credit hours for two weeks of seminar work. We know what they have to do. We have counted the minutes of seat time. We know they are getting this unique experience, with an incredible safety net and in a city that is so completely different than their hometown. It's study away, but it's safe. 
Why should someone become a TWC liaison? What rewards from being a liaison would you identify?
The liaisons are an impressive network. These are highly skilled people who, it is part of their job, but you can tell it is also a passion. They are all really into how to do the best for their students and have found TWC is one of the things that helps them do that. Working the seminars has allowed me to build my own network across the country. That network is different than one you might develop from a professional society where you see each other for 20 minutes at an annual meeting. At a seminar, we're living next door to one another for two weeks. I can call up someone about an applicant or a student who wants to go to their college for grad school. We'll be painfully honest with each other, because we know each other. Also, it allows us to expose students to a well-run organization that has the right mission and the right heart. One of the things I've always liked about TWC is I feel like my opinion matters here as a liaison. If the liaisons say they don't like the way something is done, TWC will try to rectify and solve it. It isn't just what is the impact TWC has on you, it's what is the impact you have on TWC. You don't readily see that in academia. 
According to Nancy, "TWC is a solid organization to work with and has been an amazing gift for my students and school. I've never had a student do TWC that hasn't come back and said it was the best part of their college experience."